I arrived at work this morning like I was supposed to. And soon another person comes in to work. She asks me "what are you doing here?" I told her that the supervisor told me that I was scheduled all this week at this time. We looked at the schedule, and I was where I was supposed to be. This made me really happy because it was quite early in the morning. I would have become quite grumpy if I got out of bed for nothing. She called the main office, and asked "do you guys know where I'm supposed to be?" After a couple of minutes, she decided that she was where she was supposed to be. This was a big relief to me. Yesterday was a holiday so there was loads of extra work for the day, and I had extra help for the day. It was a fantastic way to start my work day.
Since everybody needs a little something to brighten their day. Check out this video on youtube by Hi-Fidelity Quartet. The trekkies that read this will really love this. They have appeared on The Tonight Show with Jay Leno. If you enjoy parodies then you will really like this group. The link to their website is below.
http://www.hifidelityquartet.com/
And since I was watching the video. I decided to find a couple of other Star Trek items that were fun, or that could be added to a trekkies wishlist.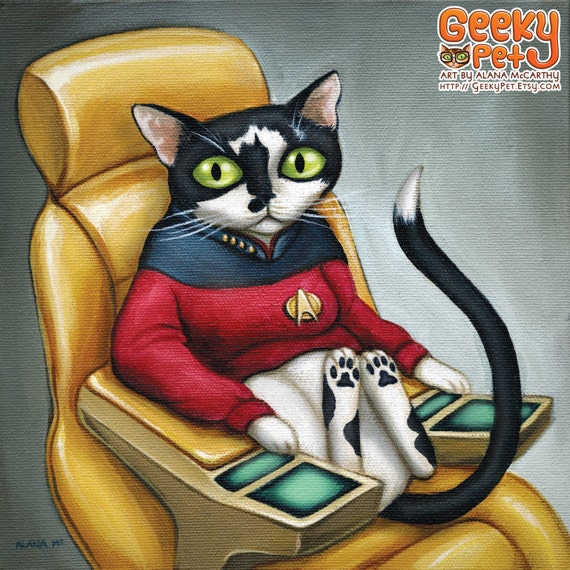 This is in geeky pet on etsy.com. I started to laugh when I saw this. But it a great piece for a Star Trek fan that loves cats. Check out her store on etsy to see this picture, and other artwork by Alana McCarthy. It should bring a smile to your face too.
http://www.etsy.com/listing/101232791/star-trek-cat-8-x-8-art-print-kitty
And this poster would be great for any trekkies wall. It's available on zibbet.com in KaraKreative's shop. Follow the link below to visit her shop.
http://www.zibbet.com/KaraKreative/artwork?artworkId=686184
And even though it isn't a Star Trek dress, I want this dress!
It's gorgeous! An emerald green dress overlaid with black lace. It would be great for any fall party, or even better a Christmas party. It's available through Shabby Apple. The link below will take you to Shabby Apple to explore all the dresses they have available.
http://www.shabbyapple.com/?AffiliateID=15028
I Hope Everyone Has a Fantastic Day!