I wandered out into my yard this morning so I could use that natural morning light to get some photos. The hour after the sun comes up is supposed to be the greatest to take pictures with. So since I've decided to learn how to take some photographs, I decided this morning I would try the morning light. I walked into my backyard to see if there was anything interesting to photograph. And low and behold the squirrel appeared. The squirrel and I normally are at war. I pick up the acorns that are laying around, and he digs up my tulips bulbs. He's gone as far as throwing acorns at me, when I'm out working in my garden. But this morning I turned around and there he was. I was looking for something to photograph, and it was the gardener's nemesis. We stared at each other for a couple of moments. Then I slowly put my camera up to my eye, and snapped a picture. We continued to stare at each other for a couple of moments. Soon he turned and went to the other side of the tree. It was a truce in our little war. We finally agreed that every once and awhile we could be out in the garden together without anything happening.
Things I would love to have today!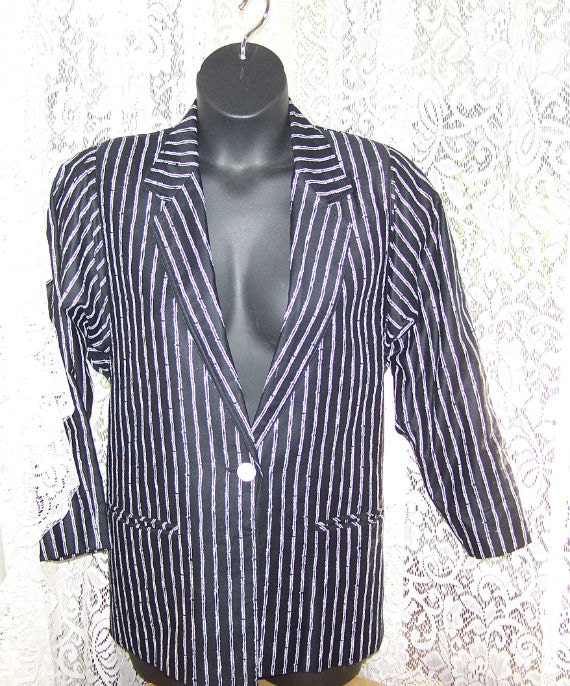 This black and white jacket is straight from the 80's, big shoulder pads and all. I loved these jackets the first time around. They were great for work or going out. It's available in Real Gone Cat on etsy. Here's the link:
If you like the picture of the squirrel, then you can buy a notebook with his picture on it through zazzle. Here's the link:
This adorable little necklace called My Little Dear is available through Lisa Leonard Designs. It's currently 25% off the regular price. Follow the link below to learn more about this necklace.
And who doesn't need a flying squirrel t-shirt. It's available through nonfictiontees on zibbet. Here's the link: