So I laid down to take a nap the other day. Soon after I had fallen asleep, I hear the doorbell ring. I think to myself just let it ring. I'm not expecting anyone to come to the house. I hear the doorbell again, well not just again. I hear it ring another six times. I choose to ignore it. I mean really who rings someones doorbell six times right? And how important could it be right?
Well, it was my mailman. By the way my mailman is an awesome guy. He does his best to make sure I get all of my packages. Thank you very much! I had a package waiting for me at the post office. You see I recently won a giveaway at The Great Blog Train. Yes, I really am a winner! I won some money through paypal, ad space on
God's Growing Garden
, and Marci from
Stone Cottage Adventures
made me a bag of goodies as part of the giveaway. The package of goodies is what the mailman was ringing the doorbell about.
This is the loot from the package. I got handmade soap, tea, and because Marci is an excellent seamstress a handmade bag. Here's a picture of what I got.
Isn't it great! Thank you ladies for the wonderful giveaway, and if you are looking for a blog hop where you can make lots of interesting new blogging friends. Check this blog hop out it runs for an entire month. And maybe you could be a winner too!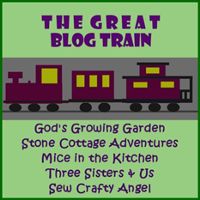 Music to blog by All About That Bass by Meghan Trainor
Other Links You May Like
A Stranger Made My Day
What Does a Family Look Like?
I Just Can't Live Without